20 weeks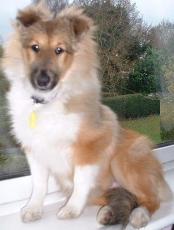 Week Beginning 17th November
20 weeks. No more puppy classes as am at Uni on those nights now. So she comes to agility training to watch and she had a lovely time meeting all the mad collies there :-) She has learnt touch-tap and rollover this week. Also starting to do some obedience finishes and retrieves.
19 weeks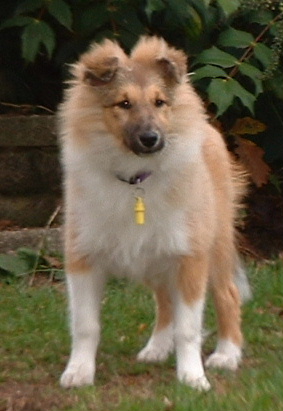 Week Beginning 10th November 2003
19 weeks. Ember came along to a YKC show at the weekend. She was a star, she met loads of people and revelled in all the attention insisting she say hello to everyone the little madam :-D I did a bit of training with her in a spare ring ans she worked really well, did some heelwork a retrieve and a recall, I was so pleased with her she really did me proud. She has made a new friend this week, Herbie the border terrier who is a part time member of the pack as I am looking after him and walking him during the mornings.
18 weeks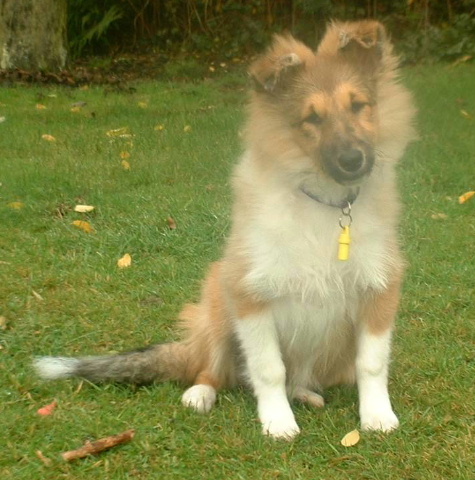 Week Beginning 3rd November
18 weeks. Ember did well at puppy class this week. I have begun to teach her paw and she has picked it up quickly with the clicker. She also now knows lefts and rights. She is doing well (I think) with her stand practice as shelties have to freestand I believe. She hasn't grown much if anything, when I measure she seems to be the same heigh - 12 inches. She's not looking so topsy turvy anymore :-D I took a lovely halloween piccie of her, you can see it on
her page.
17 weeks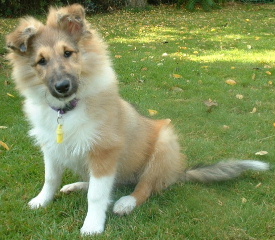 Week Beginning 27th Ocrtober
17 weeks. This week we've been doing some stays and she is doing really well, she will do quite a long sit stay and also a long recall. Her heelwork is lovely it is so much easier with the clicker as I can click when her feet are on the ground and she seems to have picked this up easy. She is out of her crate at night as she kept yapping and waking us up as she wanted to be with the other doggies! So she sleeps with them and is happy now. She's constantly pestering us to go out so she can go and have a good yap, she's really got the hang of asking to go out now. She knows 'no' very well, if she is after something she shouldn't be we just say no and she stops whatever she's doing :-)
16 weeks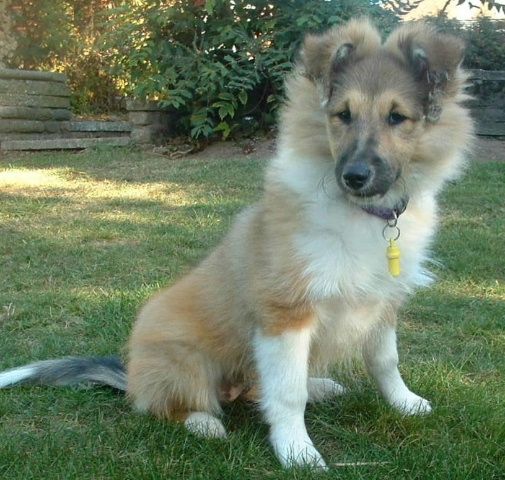 Week Beginning 20th October 2003
16 weeks. Ember is doing well with her clicker training, she has really picked it up quickly. She came to watch at agility training and had a great time going up to everyone having a fuss.
15 weeks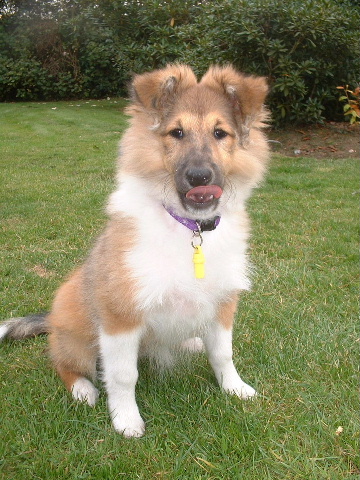 Doesn't appreciate having her piccie taken!
Week Beginning 13th October
15 weeks. I took Ember to the agility open day at club yesterday, she was brilliant, she met loads of people and dogs and wanted to join in the agility - especially when I took Cas round! She is dry at night and hasn't had an accident for a couple of weeks now, she asks to go out all the time. She is 12 inches high and her adult coat has started to come through. I have started using the clicker with her too so we'll see how we get on.
14 Weeks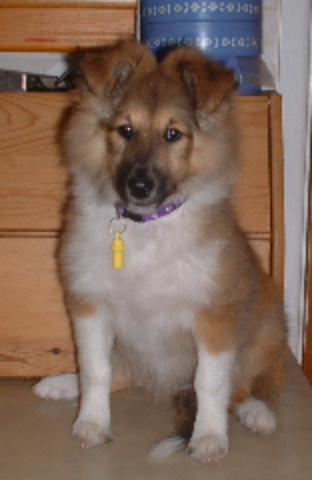 Week Beginning 6th October 2003
14 weeks. We took Ember for some socialisation at a Companion Show this weekend and she was a little star, she met all sorts of doggies all shapes and sizes and went up to them all wagging her tail. She also met loads of people and enjoyed every minute of it!
13 weeks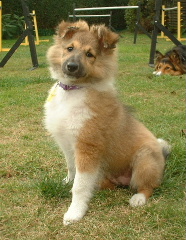 Week Beginning 29th September 2003
13 weeks. We all went for a walk across Cannock Chase at the weekend, Ember loved it, she couldn't understand why the other two kept going into the undergrowth and sniffing, but finally got the hang of it :-D We let her off and she came back no problems, she wasn't bothered about cyclists going past or anything. Her second week at puppy class and she did really well again, I am so pleased with her.
12 weeks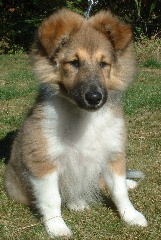 Week Beginning 22nd September 2003
12 weeks. She's had all her vaccinations and she's allowed out! We've been for a walk everyday this week and she's met lots of people and other doggies. We went to her first puppy class on Wednesday and I was really pleased with her, I wasn't sure if she'd ignore me and go barking at the other dogs, but she didn't, she enjoyed herself and strode in wagging her whole body :-) I let her off the lead for the first time on a walk and she came back every time she was called. She is playing with Cas all the time, they really are great friends, we didn't think Cas would ever have a doggie friend.
11 weeks old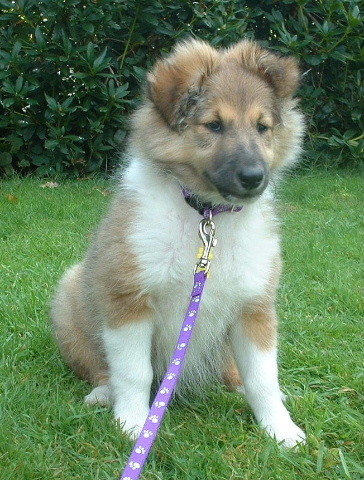 Week beginning 15th September 2003
11 weeks. Ember has been asking to go out to the loo this week and we are so pleased she's caught on to this housetraining thing so quickly! She's had her last vaccination and is allowed out next week. She learnt how to do the flat tunnel this week in 5 mins, it took me about two weeks to teach Cassie!